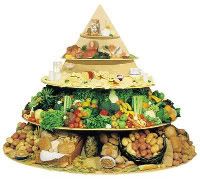 Image from photobucket
Well I know for a fact that I cannot avoid all which is good So as far as the eating plan goes this is what I will do.
DIET is not a bad word. I am not "going" on a diet, but rather "modifying" my diet. I can eat healthy and still feel satisfied.
Specifics:
There are specific guidelines nutritionists say to follow when eating.

50%of your diet from CHO (carbohydrates) half of those come from grains the other half from simple CHO like fruts and vegetables.
30% from fat. 10% of that 30 is the bad fat "saturated." You can definitely eat a lot less than 10% and be fine.
The other 20% can go two ways. You can either up your CHO 10% and eat 10% protein or you can eat 20% protein. I opt for the 20% definitely. Protein is a good way to build muscle and you need it so I personally do not believe that 10% is enough for most people. Now there are exceptions to every rule but if you are healthy and do not have other sorts of diseases or disorders 20% is good.
My plan:
Well I can kind of visualize portions etc now because I have been doing it for so long. I am not going to stop eating everything with taste either. Moderation is the key when it comes to eating.
Some things I will consider:
• 1 potion only at meal time (excludes Christmas, thanksgivings, new years etc) we can't take all the fun out of the holidays BUT.. I will not eat left-overs after these days.
• Limiting the amount of sauces and gravies on food. Some sauce is good but do not need the "little food with my sauce" theory. How about a little sauce with the food.
• Dinner is at 6-6:30. No eating after this. We do make popcorn at night with the family, but we make it on the stove and I put very very little butter and salt on mine. A couple times a week I will keep the popcorn.
• Soda, only on PMS days. No need for it, even diet soda can cause weight gain.