My son was asking for me to put on a show, in the only way a 23 month old knows how. "Mommy show, woof woof." I figured this meant a dog show. I got onto Netflix and scrolled through the instant que and found a few dog shows. I tried them and he yelled "no, no, ymaw, no." He calls me ymaw, so cute!
I know what he wanted and I was so trying to avoid it but after the 6th show…I put on Barney and he yelled "yay," clapped his hands and smiled so big! Why me I ask? Why Barney,. I dislike Barney! My daughter never got into it and I thought I was safe. Well…I guess I am not lucky twice eh? So here is to my son and BARNEY!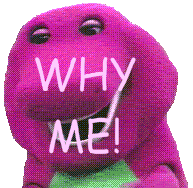 He is lucky he is so darn cute!
Love you little Buddy!
Mom!
I hope you are all having a barney FREE weekend!
Peace!