This is a bug post for the blog
5minutesfor mom
to enter to win a gift card. This story always gives me goose bumps to tell to others!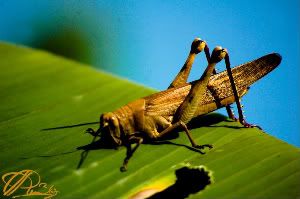 Image from photobucket
I have a fear or grasshoppers because of this incident when I was about 7 or 8 years old (I am 39 now, so it was a long time ago).

I was playing outside in the springtime and had a long sleeve sweater on. I cam in fro lunch and took the sweater off and threw it by the back door. After lunch, I put the sweater back on and there was something jumping up and down in my sleeve and I was FREAKING out! I was jumping up and down and screaming and it was everything my Mom could do to get that sweater off me. I was crying and she got it off and out jumped a GRASS HOPPER! It scared me to death. I would not go outside after that for the rest of the day. Just relating the story now gives me chills. I really do not like grasshoppers to this day at all!
Even the picture I found on photobuket gives me the heebie jeebies to look at. I HATE them!
What is your freaky bug story!